Interview by Katharine Stubbs
Deborah Biancotti is the author of A Book of Endings and Bad Power, and co-author of the New York Times bestselling novel, Zeroes. She has been shortlisted for the Shirley Jackson Award and the William L. Crawford Award for Best First Fantasy Book. Her novella, Waking in Winter, is available from PS Publishing. Deborah lives in Sydney, Australia. You can find her online at deborahbiancotti.com and on Twitter @deborah_b.
Everyone's talking about the series Zeroes, that you're co-writing with Margo Lanagan and Scott Westerfeld. The second book, Swarm, is due to come out September this year. One of the biggest talking points from your fans is trying to work out who's responsible for which parts, or which characters. Can you give us any hints at all, or can you say a part that you wish you wrote? Or can you tell us about a scene that was cut that you really enjoy? (Side note, I'll also be asking the same question to your co-writers!)
Nope, nope, and not really. Actually, there was this one scene in a dorm room I really liked, but it got cut for speed. And for the likelihood of that character actually being in a dorm room in the first place. It was a nice scene, though. Also one of my secondary characters was axed. It's a shame. She was great! I felt like a lot of my character's backstory disappeared with those two deletions, but then backstory is not necessarily story, and only story gets to make it to the page. Particularly when you have that many characters.
Waking in Winter is about a pilot, Muir, who discovers something mysterious in ice that could very well be Ningyo (a Japanese fish god). What inspired this work, what else can you tell us about it, and will there be related work in the future?
It was the ducks. Well, not just the ducks. It was a bunch of things, many of them focussed on these icy, extreme landscapes (that we're losing as the Earth heats up). I've always loved stories set in the snow. The danger; the alienation; the concealment; the exoticness; and the kind of self-knowledge that emerges in extreme environments, under extreme pressure. And the beauty, the quiet, the history, the mix of peace and deadliness.
In recent years I've been taking a page out of Justin Cronin's book. Well, not literally. But when he described working on The Passage, he said he 'put in everything I've ever loved'. I thought that was a brilliant plan for designing and creating a book you could be proud of, and a story that could continue to excite you for however long you thought, wrote and talked about it.
So, Waking in Winter has a lot of things I love. A remote, icy landscape; a bunch of outsiders and misfits and screw-ups; the threat of the unknown; a messed-up approach to religion and belief; maybe a teasing suggestion that faith is faith, irregardless of what you choose to believe in; a heroine who's not prepared to take a lot of shit anymore; and an ultimate choice. And ducks. Lots of ducks.
You seem to write very well with others, such as the collection Ishtar, and our previously discussed series Zeroes. What about co-writing appeals to you, and are there other authors you'd love to write with one day?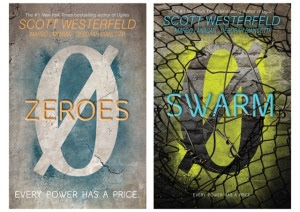 Ha, ha, ha, I write well with others. Let's go with 'why, yes, that is true'. I mean, I really like collaborating. It's how most modern TV writing is done, which is probably why I became so interested in it. There's a lot of brilliant storytelling happening on TV.
There's plenty of authors I'd like to write with. There are other collaborations I've started working on, too, long may they live. Team work is one of those weird, addictive alchemies: sometimes it works to create magic; sometimes you worry that nobody's going to make it out of this thing alive. You know. It's like gambling. With the mafia.
I love the possibilities of teamwork, the way ideas can be extended or exchanged or hell, just rapidly abandoned, and all these outcomes can happen faster and with more hilarity than working on my own. I love that I never feel completely hamstrung or intimidated by a story. Two minds — or three — really are better than one. SOMEONE in the team will come up with a solution. One of my team mates (Scott, I think) said it best: in a team, there's this sense that you're almost daring each other to go further, write crazier, think bigger.
What Australian work have you loved recently?

I really love Claire Zorn's The Sky So Heavy (post-apocalyptic stylishness) and The Protected (tragic coming-to-terms story). And Laura Buzo's Holier Than Thou
(smart twenty-something disenfranchised coming of age story)). Plus I really enjoyed Kate Hendrick's The Accident (it's about an accident, if you haven't guessed, and all the lives impacted by it). Two Wolves, by Tristan Bancks, is exactly the kind of book I would've loved as a tween: plucky kid goes on the run after his parents go ON THE RUN. These authors are all more or less in the YA camp (Two Wolves is a bit younger than that, but still eminently readable for us old folk).
For a change of pace, I've finally picked up Delusions of Gender by Cordelia Fine, which is the kind of witty, fresh non-fiction writing you wish all academics could generate (but, they can't).
Plus I have a bunch of Australian books on my bedside table (read: library reserve list) that I'm now embarrassed I haven't read yet. I can't even name them, I'm so embarrassed how behind I am (and also then my friends will know I haven't read their books yet, which will make our next conversations potentially more awkward).
Which author (living or dead) would you most like to sit next to on a long plane trip and why?
Hmm, tough question. There's a difference between loving a writer's writing and wanting to spend twenty hours trapped beside someone on a plane. I'm actually going to say Elizabeth Gilbert, because I love what she says about the creative process. About showing up, and about inspiration. And particularly about the value of curiosity over passion. I just want to sit beside her and say, 'you are so fucking right about passion, Liz! Passion? Fuck passion!'
That could be the start of a great conversation.
Also I suspect she flies first class. So if I'm sitting beside her, I'm drinking mimosas and staying up late watching movies in complete freaking comfort while wearing airline socks.