Interview by Katharine Stubbs.
Kim Wilkins has publ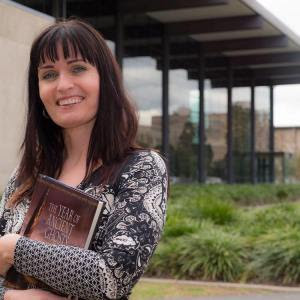 ished 26 books in 20 languages under her own name and her pseudonym Kimberley Freeman. Although she has published across genres, fantasy is where she comes to roost. She has a PhD in English and is a senior lecturer at University of Queensland, where she works as program director of the postgraduate Writing, Editing, and Publishing program. She is also an accomplished academic, who publishes on medievalism and popular fiction, and leads a large research project about Australian popular fiction, which is funded by the Australian Research Council.

Your current Blood and Gold series has the second book, Sisters of the Fire due for release August this year. Daughters of the Storm was absolutely amazing, and readers have been desperate for these characters since first reading them in The Crown of Rowan (first released in the anthology Legends of Australian Fantasy in 2010). What's something we can look forward to seeing in Blood and Gold, and is there anything readers will need before we start? Tissues? Chocolate? (We already know we'll need absolutely no commitments in the near future so we can sit down and not move until we're done!)
You're very kind. I loved writing about Bluebell and her sisters and it was sheer delight to plunge back into that world. In Sisters of the Fire you can expect lots of magic, lots of tors and moors and rugged coastlines, a lovely new male character nicknamed Snowy (whom I wrote as a challenge from my boxing trainer to "create a male fantasy character who isn't a warrior or a wuss"), and the rise of a woodland tribe who think Rose's daughter Rowan belongs to them. And I'd recommend strong tea and good gingerbread, but that's just a rule for life.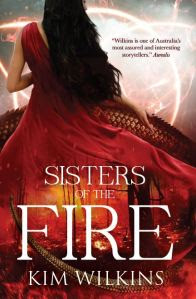 The Year of Ancient Ghosts, a collection of yours released by Ticonderoga Publications, contains award-winning and nominated novellas (very deserving of the recognition!) Are any other of the novellas going to be developed into longer work or can you share any background information that lives in your head about any of these characters?
At our last Snapshot interview series, you mentioned that you're working on a secret project that will be a Viking themed urban fantasy. Can we have an update on this work? When can we expect to see it, it sounds intriguing!
I'll answer two questions with one here: the Viking-themed urban fantasy is actually a short novel that starts with the novella, Wild Dreams of Blood, from that collection. It follows Sara as she takes on seven challenges from Odin, who has let loose seven supernatural monsters in the city. But she also has to learn how she came to be Odin's daughter, and why there is somebody out to get her. PS Publishing are going to be publishing this in the next six months or so (I think) and it's called Odin's Girl. 
And our bonus question, as the above two were combined; Sara is a character from Wild Dreams of Blood, named for the much missed Sara Douglass. Does she feature in Odin's Girl, or who can we expect to love from your upcoming novel?
Yes,  I named her Sara when Sara D was very ill. I liked the idea of somebody with superhuman strength who bore her name. My Sara is the main character in Odin's Girl, but there's also a new ally by the name of Ben Midnight, who's a paranormal investigator. Plus a few Norse myths thrown in for fun…
What Australian work have you loved recently?
Lisa Hannett's Lament for the Afterlife, which is a complete mindfuck of a book. I think she is such an imaginative and gifted writer. She moves from subtle to sledgehammer with incredible grace. I also think Rjurik Davidson is an amazing talent and loved his Unwrapped Sky. And I got to read Jack Dann's new novel before anyone else as his PhD advisor! It is immense and complex and beautiful, as you'd imagine.
Which author (living or dead) would you most like to sit next to on a long plane trip and why?
Kate Forsyth, who is my favourite travelling companion and a kindred spirit! We have travelled together a few times now, and plan to do so again next year. A trip to England doesn't feel right without her. Last year, we spent a week together in a little village in Dorset (with Lisa Hannett, too!) and went completely mad drinking champagne and visiting magic wells in the moonlight. It was a fantasy writers sleepover. Kate is an absolute dream to travel with. She is quiet and bookish and we can be so happy in each other's company reading and writing; or, alternatively, chatting and drinking. I could do long haul with her easy (especially in business class).