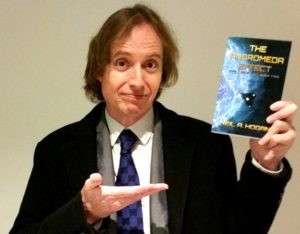 Neil A. Hogan writes crazy, weird, unimaginable science fiction with a multidimensional theme. Generally, unbelievable space opera style stories with aliens. Expect conscious galaxies, multifrequency realities, strange physics and other concepts with a metaphysical influence. He is usually hidden away in a cafe / bar somewhere, typing away on his netbook, oblivious to reality.
1. Tell us about your recent publications/projects?
Hoganthology is a collection of my short stories from the past 30 years or so. About 820 pages worth. Self-published through Amazon last year. This weighty tome sits on my desk to inspire me to write more. Alien Dimensions #19 is a semiprozine I edit, and is the most recent from that series. There were plans for #20 but these have been temporarily shelved due to the coronavirus (as have many other projects). The Robots of Atlantis is in progress. It's book 4 in my Stellar Flash space opera series. I stopped writing it in February when COVID-19 hit and other things took priority. Hope to get back to that in November.
2. What has been the best publishing or SF community experience of your career so far?
Interestingly, it's suddenly being able to access interviews with authors around the world, thanks to everyone doing live online-from-home interviews. Watched a Gaiman/Jemisin interview recently which was pretty cool. A year ago we would have had to fly to New York to do that.
3. Which recent Australian/NZ work would you recommend to international fans interested in expanding their Antipodean spec fic knowledge?
Hmm. I can only recommend one of my own. Under a similar pen name – The A.I. Job by Jason Hogan. Almost completely set in Melbourne CBD in 2033, when half the city is under water. However, it has been written simply, with English as a Second Language speakers in mind, so probably not one to recommend to avid native English readers.