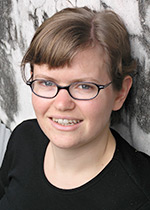 Grace Dugan was born in Melbourne in 1981 and grew up in Warwick on the Darling Downs, south-east Queensland. She graduated from the University of Queensland in 2003 with a BA in political science and in 2011 with Bachelor of Medicine/Bachelor of Surgery.
Grace's novel The Silver Road received a Varuna Award for Manuscript Development and was published by Penguin Australia in 2006, and her novel The Motherland Garden is due soon from Twelfth Planet Press. Her short fiction has appeared in magazines and anthologies including Interzone and Strange Horizons. She attended the Clarion Workshop in Michigan, USA, in 2004 and was a co-founder of the Clarion South Workshop in Brisbane.
Grace has taught English language at Griffith University and creative writing at Queensland University of Technology and the Queensland Writers Centre. She now works as a resident medical officer in Nelson, New Zealand. Her other interests include gardening, cooking and, of course, reading.
1. Tell us about your recent publications/projects?
My novel The Motherland Garden is forthcoming from Twelfth Planet Press. We had planned to launch it at the WorldCon but everything is delayed due to Covid so stay turned for details Twelfth Planet are also republishing my 2006 novel The Silver Road as an ebook which is exciting because it has never been available outside of Australia before so I'm looking forward to some of my friends being able to read it.
The Motherland Garden is about a young woman who was brought up in a hermitage where they study a sort of weather magic. Except their mistress and teacher has left them and they are a bit confused and directionless. They live in a subject nation of an empire and the mountains where they live become the site of a partisan uprising, and they find it impossible to avoid getting caught up in that in various ways. I wrote the first draft of this book about 15 years ago but it didn't find a home then, and I went to medical school and basically forgot about it. After Twelfth Planet bought it I got to rewrite it which I really enjoyed. It felt like a book by an earlier version of me so my task was to make it better but also to keep it true to itself and not try to remake it into the sort of book I would write now.
One of the things I'm most excited about the publication is we commissioned Malagasy artist Alain Rasolo to paint the cover art and he did a beautiful job. I met Rasolo when I was working in Madagascar last year and was blown away by his beautiful watercolours of wildlife and landscapes. It's going to be a very pretty book.
I'm working on some other things as well but nothing close to submission stage. Rewriting The Motherland Garden got me back into writing and I've had a moderately productive couple of years so I'm looking forward to the time when these projects mature.
2. What has been the best publishing or SF community experience of your career so far?
This is an impossible question for me as I have so many fantastic memories of my time in the SF community. In 2005, the year after I went to Clarion, I got a small grant and spent 6 weeks travelling around the US visiting people and going to cons and it was amazing. People were so hospital and friendly. I also have really fond memories of going to the Natcon in Brisbane in 2016 and seeing so many old friends who I hadn't seen for years. That was the year Rowena Cory Daniells won the Peter McNamara Award and it was great to see her recognised for her contribution to the community. She had been one of my mentors twenty years earlier when I joined the Vision Writers group as a teenager.
These long term friendships and connections actually help create some continuity in my life which has otherwise been pretty choppy!
3. Which recent Australian/NZ work would you recommend to international fans interested in expanding their Antipodean spec fic knowledge?
I'm going to recommend Too Much Lip by Melissa Lucashenko. I read it earlier this year and since then she's become my new favourite author. Everything that interests me in writing about Australia is in that book. I've tried to read all her earlier novels but they are really hard to get hold of which is driving me crazy. There are two of them which I could only read by physically sitting in the state library reading room, which I have yet to do! I'm hoping that with the increasing interest in indigenous authors this year UQP will reprint them or at least make them available as ebooks.
Too Much Lip is only marginally spec fic however (it does have a talking crow), so I'm also going to recommend The Swan Book by Alexis Wright. I'm not really sure how to describe this book and I'm not sure if non-Australians would be able to understand it but it is definitely a book capable of blowing your mind. It's set iin a future Australia ravaged by climate change and with other familiar features like fenced off detention centres and neglected indigenous communities. It has an incredible voice and a dream-like quality of intense strangeness which can be disorienting but you just have to submit to it.
I'm also going to mention that I've read Trent Jamieson's next book and it is also really great! Keep an eye out for it next year.