Interview by Katharine Stubbs.
Margo Lanagan has published 5 collections of short stories (White Time, Black Juice, Red Spikes, Yellowcake and Cracklescape) and two novels, Tender Morsels and Sea Hearts. Among her many awards are five Ditmar and nine Aurealis awards, and four World Fantasy Awards (for short story, collection, novella and novel). Margo lives in Sydney.
Everyone's talking about the series Zeroes, that you're co-writing with Deborah Biancotti and Scott Westerfeld. The second book, Swarm, is due to come out September this year. One of the biggest talking points from your fans is trying to work out who's responsible for which parts, or which characters. Can you give us any hints at all, or can you say a part that you wish you wrote? Or can you tell us about a scene that was cut that you really enjoy? (Side note, I'll also be asking the same question to your co-writers!)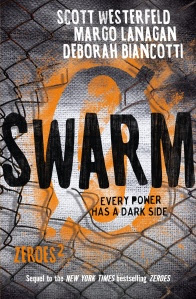 I'm sorry, on all those three subjects my lips are sealed. Why would I spoil the fun of watching people guess—and, except for two people on earth (one a blood relative and one a friend of 35 years' standing), guess wrong? And even those two people only narrowed it down to three.
Okay, here's a hint: none of us gets to 'ship our own two characters. So if two Zeroes are getting it on, they are not being written by the same author.
And that is ALL that I'm saying. Tempt me no further.
Are there any worlds or characters from your past work that you'll revisit and bring to your readers again as a tie-in? Tender Morsels and Sea Hearts are in the running as favourites for this.
If I were going to revive anyone from Tender Morsels, it'd probably be either Ramstrong or Muddy Annie. I would send Ramstrong on a proper quest—for what, I don't know, but it would certainly involve bear transformations. Muddy Annie would get a romance of some kind, probably with a nobleman. It would end badly for him, probably, but she would waltz off into the woods quite happily. And there are probably dozens of stories inside the Eelsisters' convent that would be worth exploring.
And I wouldn't mind examining Trudle Callisher's childhood—she's the second witch, Misskaella's apprentice, in Sea Hearts. I should think she had a lot of fun discovering her witchly powers, and she had a pack of quarrelsome sisters she could make a nuisance of herself with.
You have a short story called 'When I Lay Frozen' coming out in The Starlit Wood: New Fairy Tales' due to be released in October this year through Saga Press. What can you tell us about this piece of work? (The anthology has such a beautiful cover!)
It does look gorgeous, doesn't it? My story is a reworking of Hans Christian Andersen's 'Thumbelina/Tommelise'. My Tommelise is as tiny as Andersen's, but instead of winsome charm she radiates sex pheromones which have a predictable effect on all the giant creatures she meets. That effect remains mysterious and frightening to her because, being an exotic Turkish tulip transplanted to Denmark, she herself finds no mate to reproduce with. My story follows Andersen's fairly closely, but it's loads darker and more distressing, with sickeningly big spiders and cockchafers and a deeply creepy mole.
What Australian work have you loved recently?
I've been privileged to read an advance copy of Kathryn Heyman's novel Storm and Grace. It's a mostly naturalistic 'love' story, but is periodically invaded by sirens, so for that, and for the otherworldly depictions of freediving, I'm going to count it among my fantasy picks. Angela Slatter's Vigil introduces Verity Fassbinder, a human/Weyrd hybrid whose job it is to keep the peace between the two—and wherever there are peacekeepers, you just know some fascinating conflict is taking place. Kaaron Warren's The Grief Hole is for those who like their ghosts served up chilled and twitching, in battered Tupperware, bwaha! And Rose Mulready's novella The Bonobo's Dream is a futuristic fiction that is dreamlike in a good way, a cool, unsettling mix of beauty and dystopia.
Which author (living or dead) would you most like to sit next to on a long plane trip and why?
Flannery O'Connor, because I suspect she would, like me, cover herself with a blanket and eye-mask and try to sit motionless and unconscious the whole way.